So i bought a Bersa Thunder 380 CC for my first handgun, with the intention to carry it.
Which I do
Initial thoughts
It fires great
It's not heavy at all about a pound and a half tops fully loaded
Safety was a bit stiff at first but i've broken it in and it clicks much easier both ways now
Eats shitty and good ammo! Only one failure to eject with a poopy round
Hammer is kind of difficult to cock without helping by pulling the trigger, it's almost too "hidden" in the gun for the CC version but I've gotten used to it
Recoil is easily handled and double single action trigger pull is pretty nice
Which is good to carry hot with the safety "off" because of the DA first shot
Sites are a little tooooo shaved down.. Yeah it's accurate and i can hit my mark but it's not much fun.. Now it's almost "only" a carry gun...
Anywaaayy..
All was gravey... until..
I unloaded my Bersa with the intention to clean it again after popping off 2 rounds on the 4th of july into my lawn in my backyard. ( I WAS EXTREMELY SAFE)
Well when i took the round out of the chamber i noticed a "dimple" on the back of the round .. I wondered how it got there of course and did a few tests with other "new" un dimpled rounds while i pointed my now scary Bersa at the ground..
Upon farther inspection i found out that after i decock the gun and the hammer falls, when I remove the decocting safety the hammer drops a few millimeters into it's "hidden" location all the way into the rear of the gun, now pressing against the end of the firing pin!
AAAALLSOOO
just found out this morning when i put a round in the chamber and the ejection claw... thing goes over the round there's a tiny click where the firing pin apparently also slides forward slightly and tips the round!! Dimpling it!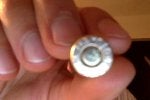 Do i have a loose firing pin? or one that's too far forward? isn't there supposed to be a safety in there blocking the firing pin???
Sure scared the hell outa the guys at my local gun shop!
They just told me to call Bersa which i will tomorrow,...
Is there a way to fix this??
Anybody else have this problem?
Is this like normal.... 0.o
and is there a chance of the round going off?