Discussion Starter
·
#1
·
Hi Guys,
Well, I got my Bersa back from the Cerakoter. Not all that happy with the outcome.
Sometimes things just don't go right. I wanted it painted the same color as my mouse, which is a matelic blue and dark gray on the side. Even left the mouse. Guy #1 found a match for the dark gray, and said the color is called (just gray) but wasn't sure they could match the blue. And would have to talk to Guy #2 when I come back to have it done. I was told by Guy #2 yup, they can match the blue, no problem. So, I didn't choose a back up color. (My Bad) When he wrote the ticket, it said Frame and Internal Safty Matalic Blue. Slide and controls just gray. Went to pick it up. Guy #2 showed me the slide and said they couldn't get the blue right and asked if I would accept the frame which was done already. A Teal which is my favorite color so I reluctently said ok. But would have to come back in a hour because the slide, etc... was in the oven. Went back in a hour and this is what I got. Apparently Guy #1 dosent talk to Guy #2.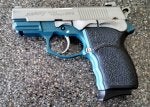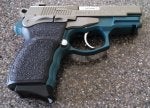 Instructions for re-assembly will be coming soon.