All (item #'s) correspond to the Exploded Parts View on page 11 in the Bersa Pro Series Owners Manual
How to remove the Drawbar (item #33):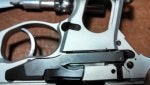 This part is a little tricky, move the Drawbar a little forward by pulling on the trigger so that it clears the Slide Catch (item # 31). You can see where the two intersect.
While doing this you will have to slip the tang of the Trigger Spring (item #23) out of the groove in the Drawbar post from the inside of the frame. To do this place a flathead screwdriver between the Trigger Spring and the Drawbar Post while at the same time placing another flathead screwdriver between the frame and drawbar and move the drawbar enough so the Trigger Spring is disengaged.
Next, slide a flathead screwdriver between the Drawbar and the Drawbar Spring (item #34) to release it from the groove in the drawbar.
Now, remove the Drawbar completely from the frame.