Discussion Starter
·
#1
·
Well I found an option for the Thunder Ultra Compact 9 and 40 at Traction Grips.
Tractiongrips: fit Bersa Thunder 9 UC Pro, 40 UC Pro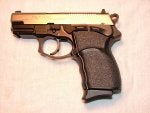 There does not seem to be alot of input on any one of the 3 Bersa websites I am affiliated with. Maybe there are not many Bersa owners or does everyone just own 380s? I am curious? They seem like awesome guns. I am getting a tremendous response from the CZ and S&W, Ruger and Taurus, Mossberg, Marlin, and DPMS sites but not much from Bersa members. Come alive folks!!